50x25mm Dual-Colour Total-Transfer
Dual colour Total-transfer tamper evident labels
WAS $40.00
NOW $32.00
Sale Ends in
00:00 am, 31 August 2022
In Stock
Notify me when back in stock
Prices above are only valid for online orders only, not for phone, email, fax, in-store orders and credit term customers.
---
Product Information
X-Safe Dual-Colour Total-Transfer Labels are tamper-evident self-adhesive labels that leave void messages on themselves and the applied surface.
Much like standard total-transfer labels, a clearly visible void message appears upon peeling of the label. An adhesive layer with a void message or pattern remains on the applied surface to show evidence of tampering. Dual-colour total-transfer labels differ to standard total-transfer labels with the addition of a secondary colour on the void layer left on the surface. This extra colour is typically a bright, striking colour that can noticed from a distance to attract attention.
The adhesive may be cleaned off the surface with to allow reuse of the sealed object.
Customisation
Security Seals Online can provide you with wide range of customised seals. We can print using your own artwork or create a design for you. We offer a speedy service with a short lead-time.
Enhanced security features by adding your own markings or logo to the security seals.
Create additional instructions for your users.
Emphasise warnings.
Provide additional notes.
We provide different styles of security seals, ranging from pull tight seals to security labels.
To accommodate other customised requests may include a minimum order quantity. If you need help with customising, just send us an email and we will get back to you as soon as possible.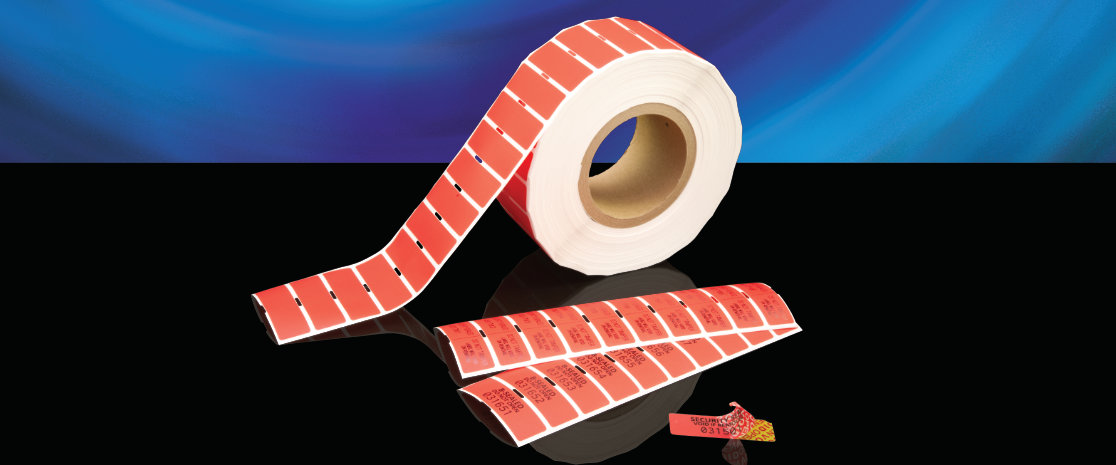 ---
Adhesive type
TOTAL-TRANSFER - where an adhesive layer with a void message is left behind on the surface to show evidence of tampering. The adhesive layer may be cleaned off on some surfaces to allow reuse of the sealed object. The security label also exhibits the void message to prevent the reuse of the label. By leaving a void message on the surface, recipients will know that the object has been accessed and tampered with.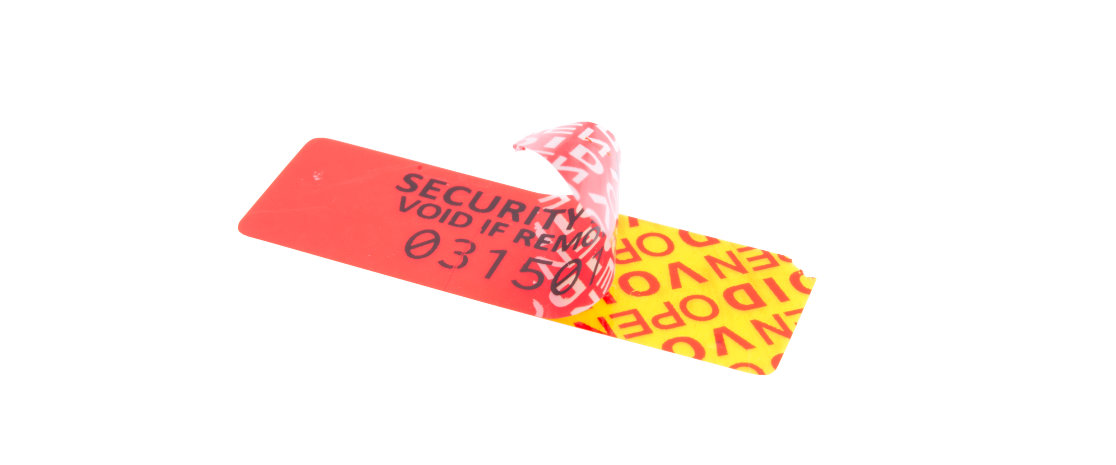 ---
Specifications
Features
Clear visible security message upon peeling of label.
Customisable printing on request.
Logo, serial numbers and optionally barcodes, can be printed on surface.
Available in various colours and sizes available.
Material
Polyester
Colours
Red glossy
Dimensions
50mm x 25mm
Markings
Serial numbered
Serial number + Barcode
Serial number + QR code
Security Seal
Security Sealed, Do Not Tamper
Void if removed

Customised
Customised markings available. Ask one of our product specialist for some options.
Security text
OPEN VOID
VOID VOID
Print method
Thermal transfer overprint
Full colour laser digital overprint
Adhesive type
Pressure sensitive total-transfer adhesive
Applications
Doors and utility meters
Server cabinets and information technology products
Coin boxes and cash-in-transit boxes
Postal and courier parcels
Security documents
Canisters and drums
Food bags
Retail boxes
Customisations
Custom markings
Colours
Numbering
Barcode
2D codes & QR codes

Ask us for customised options (minimum order quantity required)
For more information
bsealed.co/dualcolourtotaltransfer