About Us
---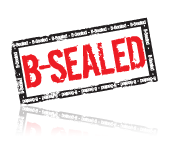 Welcome to Security Seals Online, B-Sealed's online ecommerce division. We at B-Sealed have been in the security seals solutions and tamper evident products for more than 15 years. Started out with plastic and metal bolt seals, now we have a range of solutions including tamper evident satchels, security boxes, tamper evident labels and even electronic smart seals.
You will find most of our standard seals available on Security Seals online store. However we believe that no company is the same, therefore we strive to find the best possible solution for every customer. If you are looking for customised seals, or just simply have a question, don't hesitate to contact us by email or phone. We have local manufacturing capability, overseas partners, and experienced staff members ready to assist you.
Oh by the way, here are some of our partners and affliates.