Hot stamping, laser engraving, and other printing options
Author: print spooler Date Posted:17 June 2015
---
Printing methods - what are they, and what are the differences?
Plastics seals have an impressive array of flexible printing options, ranging from hot stamping, laser engraving, thermal transfer overprinting, and inkjet printing. Which is the best printing method? They all have their pros and cons, and we'll go through some of them.
Hot stamping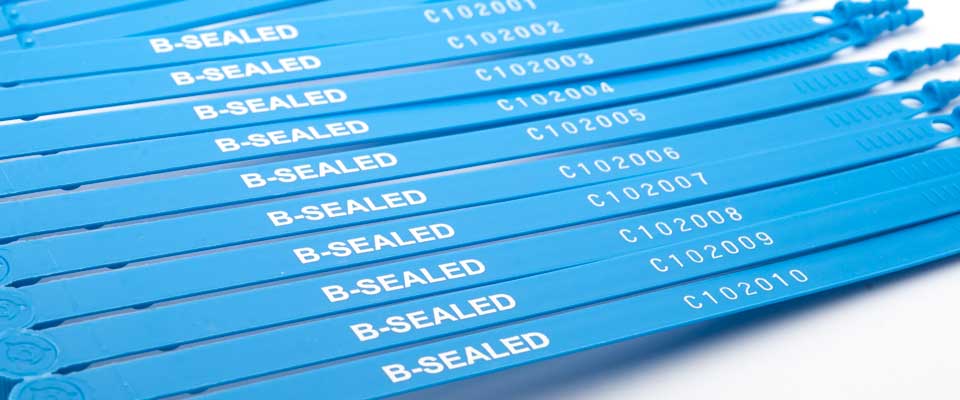 Using a stamping block, a roll of foil, heat, and a lot of pressure, this printing method stamps an imprint onto the plastic surface, at the same time transferring a layer of foil into the indentation. With a large variety of foils available (even white, or metallic colours) this gives the factory the ability to match foil colours to the seal plastic for high contrast print.
Hot stamped foils are typically steadfast but on the odd occasion that the printing is wiped off, the impression created by the stamping process remains, so the seal's integrity is maintained, albeit more difficult to read.
The main disadvantage to the hot stamping process is that a printing block must be specially engraved for custom artwork, and variable data such as serial numbering will be limited to the available numbering heads. Other types of variable data are more difficult, and as such hot stamping serialised barcodes is not possible.
At B-Sealed, we favour hot stamp printing on the majority of our plastic seals for their high contrast on most surface colours, providing excellent visibility in most conditions.
Pros:
Highest contrast
Sharp outlines
Embossed print
Cons:
Longer turnaround time for customised artwork
Font faces and sizes limited to availability of numbering heads
Serialised barcoding not possible
Thermal Transfer Overprinting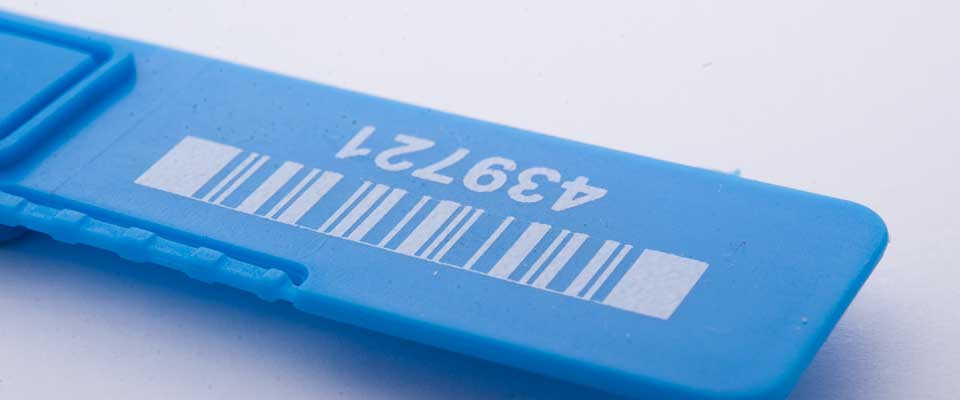 Much like hot stamping, thermal transfer overprinting uses heat to transfer artwork from foil onto the plastic surface of a security seal. Much like hot stamping, foils are widely available, even metallic colours or white. This gives plenty of options to create a high contrast print on a variety of security seal colours.
Unlike hot stamping, the printing is transferred via a digital print head, so fonts and customised artwork are easily uploaded to the printer. Variable data is also supported - serial numbers, barcodes and even images are possible.
Although the foil is steadfast on most plastic surfaces, in the event that the foil is scraped or dissolved off, a plain surface remains, and so it's difficult to determine the artwork or serial number that was removed. This can be a problem in some situations.
At B-Sealed, we tend not to use this printing method as much as possible, but in some cases we need to print barcodes on dark coloured security seals, so a light foil is thermal transfer printed for contrast.
Pros:
Highest contrast
Sharp outlines
Capable of barcoding and other variable data
Cons:
Printing is not embedded into surface
Inkjet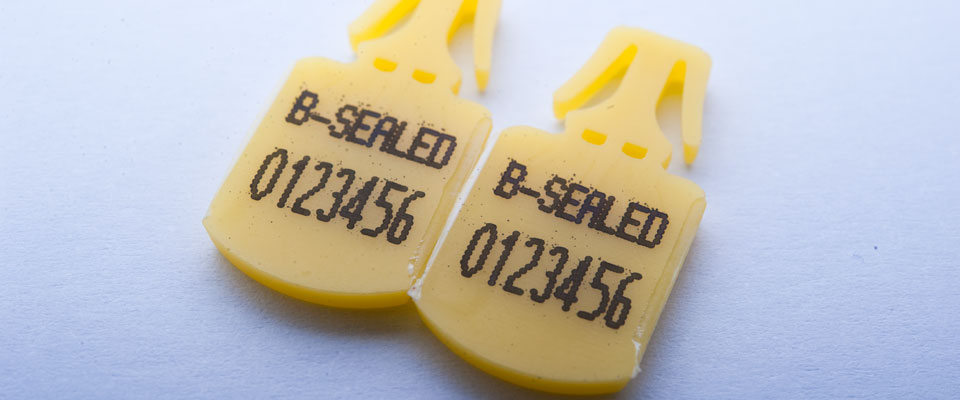 Inkjet printing on plastic security seals are exactly how you'd expect inkjet printing to work on paper. Droplets of ink are ejected from a print head to land on the printing surface and cured when exposed to UV or air. The inks typically have good contrast on most materials.
The ink is deposited on the top surface of the plastic, and has the same drawback as thermal transfer overprinting - if the ink is scraped or dissolved off, a plain surface remains and the artwork and serial number will be extremely difficult to discern.
Unlike inkjet printing on paper, the print heads of the inkjet printer designed for security seals have lower resolution and the sharpness of the print suffers. The resolution is usually high enough for barcodes - but testing is recommended for compatibility with the user's barcode scanners.
At B-Sealed, we limit the use of inkjet printing to seals with sizes too unwieldy for hot stamping, such as the tiny ZipLock security seals.
Pros:
High contrast
Capable of barcoding and other variable data
Cons:
Printing is not embedded into surface
Low resolution
Laser engraving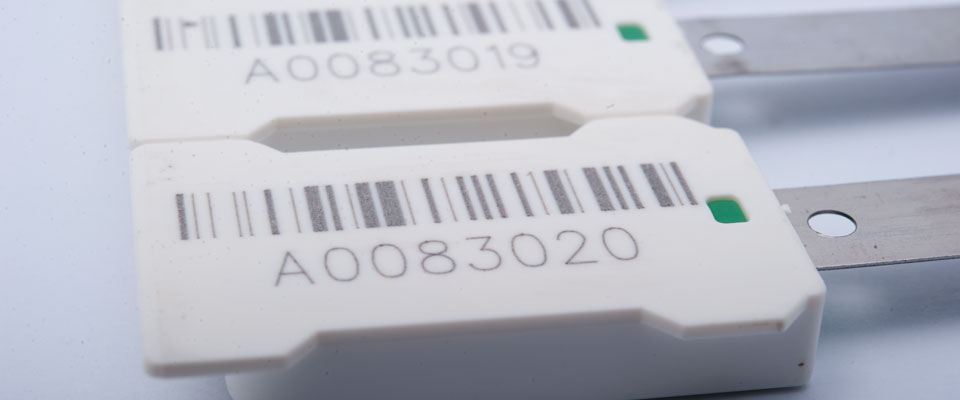 Creating laser marked seals start from the very beginning of the seals' manufacturing process. The laser-sensitive additives have to be mixed with polymer granules during manufacture, which is an additional expense - but the versatility and integrity of laser engraving is usually worth it.
Laser marking security seals involve tracing a beam of laser over the plastic surface, creating a reaction in the material that causes it to darken. Since the material of the seal changes colour where the laser hits, there isn't a layer of ink or foil that can be rubbed or dissolved off.
Most laser engravers are computer controlled, and the patterns that are uploaded to the printer are freeform and can be serial numbers, barcodes, or logos.
The downside to laser marking is that the contrast is lower than the other printing options, so white or pastel plastics can only be used.
At B-Sealed we're starting to shift towards the flexibility of laser engraving on security seals due to the ability to print large lettering and include barcodes.
Pros:
Capable of barcoding and other variable data
Extremely steadfast printing
High resolution
Cons:
Low contrast
Limited surface options