Travel with peace of mind
Author: frequent flyer Date Posted:10 June 2015
---
What is LuggageLock™?
Designed in 2006 in collaboration with B-Sealed and ABRIC, LuggageLock™ is a disposable tamper evident security seal for use with travel bags.
How do I use it?
Usage is simple - simply thread through the zipper heads, pull it tight through the locking hole. Break the number tab off LuggageLock™ and keep it safely for reference.
Tip: You can also take a photo with your camera phone. This may come in handy when you need to identify your luggage later on.
Upon arrival at your destination, inspect the seal to ensure that no one has tampered with your luggage. If the seal is missing or the number on your tab is different to that on the seal, it's very likely your luggage has been tampered with, and you should report it to the authorities as soon as possible.
No sharp implements or tools are needed for the removal of the LuggageLock™ - just rip the tear-off tail until the seal breaks apart.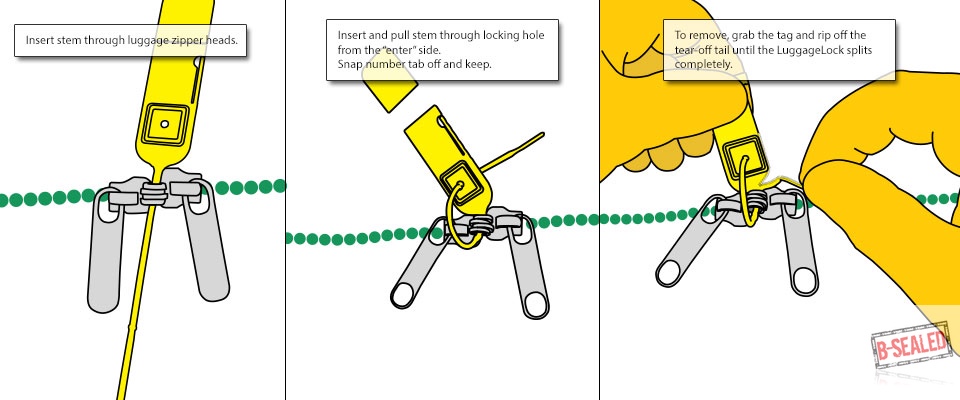 What stops somebody cutting or tearing it off?
Nothing, but they will never be able to re-seal your LuggageLock™. This will give you an indication that somebody may have tampered with your luggage (missing seal).
What stops somebody from re-attaching it with another LuggageLock™ seal?
Ah ha... but if they do the serial numbers will never match up. Every LuggageLock™ has a unique serial number and will never be reprinted.
Why can't I use a cable tie?
Although LuggageLock™ looks like a cable tie, it serves as a better tamper evident seal than a cable tie. Cable ties can be easily cut and replaced with another identical cable tie, making your luggage look like it has not been tampered with. Don't forget, you'll need a scissors or a knife to cut the cable tie. With LuggageLock™ you won't need any tools to open it, making it much user friendlier system.
Why not use a padlock?
Cheap padlocks can be easily opened and re-locked without any signs of tampering. If you have a set of padlocks already, by all means you can always use them in-conjunction with our LuggageLock™. This way you will always have a peace of mind that nobody has tampered with your bag.
Sounds great... where do I buy them?
You can purchase them from most of the luggage stores in Australia, otherwise you can order them online here.
http://www.securityseals.com.au/traveller-safety/
Don't get caught up with counterfeit or cloned LuggageLocks. LuggageLock™ is designed and manufactured by ABRIC, an internationally renowned security seal company. LuggageLock™'s locking mechanism has been approved by the UK and US Customs.