Notify me when back in stock
Prices above are only valid for online orders only, not for phone, email, fax, in-store orders and credit term customers.
---
Product Information
The DuoLoop is a variable length seal with a unique dual-jaw mechanism. The security seal incorporates stainless steel jaws for a smooth, user-friendly fastening action.
The dual locking mechanism allows for a variety of options, including being able to use the second loop as a label capture, or looping it through just to keep the strap from protruding. In any case, as long as both jaws are used, the double locks provide a bigger hindrance for tampering.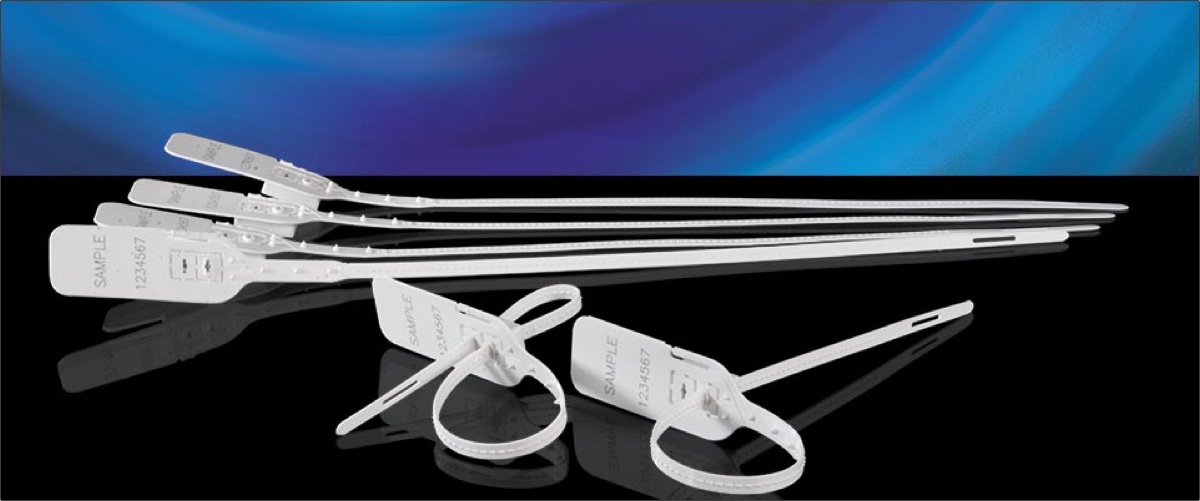 Label capture

adding more information about the item

Second loop

to prevent excess strap from protruding

Spikes

on the strap and tag to provide better grip
---
COMPARISON TABLE
SmoothLock
SegurLock
DuoLoop
SlickSeal 300
TeraLock
PlatSeal
Uni Bag 400
stem type
flat strap
flat strap
flat strap
flat strap
flat strap
flat strap
flat strap
stem length
300mm
400mm
350mm (Big Tag)
400mm (Big Tag)
450mm (Big Tag)
200mm
300mm
350mm
300mm
200mm (Type-X) 300mm
300mm (Type-X)
400mm
236.5mm
340mm
437.5mm
400mm
stem width
5.0mm
6.0mm
6.0mm
6.5mm
7.0mm
7.0mm
7.5mm
stem thickness
2.0mm
1.6mm
2.2mm
1.8mm
1.7mm
2.0mm
material
polypropylene plastic
stainless steel
polypropylene plastic
stainless steel
polypropylene plastic
stainless steel
polypropylene plastic
stainless steel
polypropylene plastic
stainless steel
polypropylene plastic
stainless steel
polypropylene plastic
stainless steel
tag size
30mm x 67mm
65mm x 130mm (Big Tag)
23mm x 50mm
23mm x 70mm (LT version)
29.2mm x 47mm
45mm x 30mm
50mm x 23mm
70mm x 23mm (LT version)
62.5mm x 25mm
36mm x 19mm
break strength
>25kg-f
>25kg-f
>40kg-f
>25kg-f
>45kg-f
>50kg-f
feature
prongs
prongs
prongs
tool-free tear-off
dual jaw locking
prongs
tool-free tear-off
prongs
prongs
prongs
back sticker labels
optional
tool-free tear-off
nylon
tool-free tear-off
tool-free tear-off
tool-free tear-off
---
Specifications
Features
Average breaking strength of 40kg-f
When both locking jaws are used, the dual locks present two locking mechanisms to circumvent, providing a deterrence by doubling the time and effort required to tamper with the seal
The second loop created when both locking jaws are utilised can be used as a label capture or merely to reduce protusion of the excess strap
Neck spikes provide grip when applied to bags
Material
Jaw: Stainless steel
Body: Polypropylene plastic
Colours
Yellow
Dimensions
Stem Width: 6.0mm
Stem Length: 350mm
Stem Thickness: 2.2mm

Tag Size: 47mm x 29.2mm
Markings
Serial numbers
* May include B-Sealed or manufacturer markings
Print method
Laser engraved
Breaking strength
40kg-f
Applications
Cash bags
Postal bags
Fuel oil tanker
Chemical drums
Customisations
Custom markings
Colours
Numbering
Laser engraved
Barcode
Side tear off

Ask us for customised options (minimum order quantity required)
For more information
bsealed.co/duoloop